During its board meeting held in Sacramento on 14 February, WPTC members established a preliminary forecast of 41.8 million tonnes of tomatoes to be processed globally in 2023.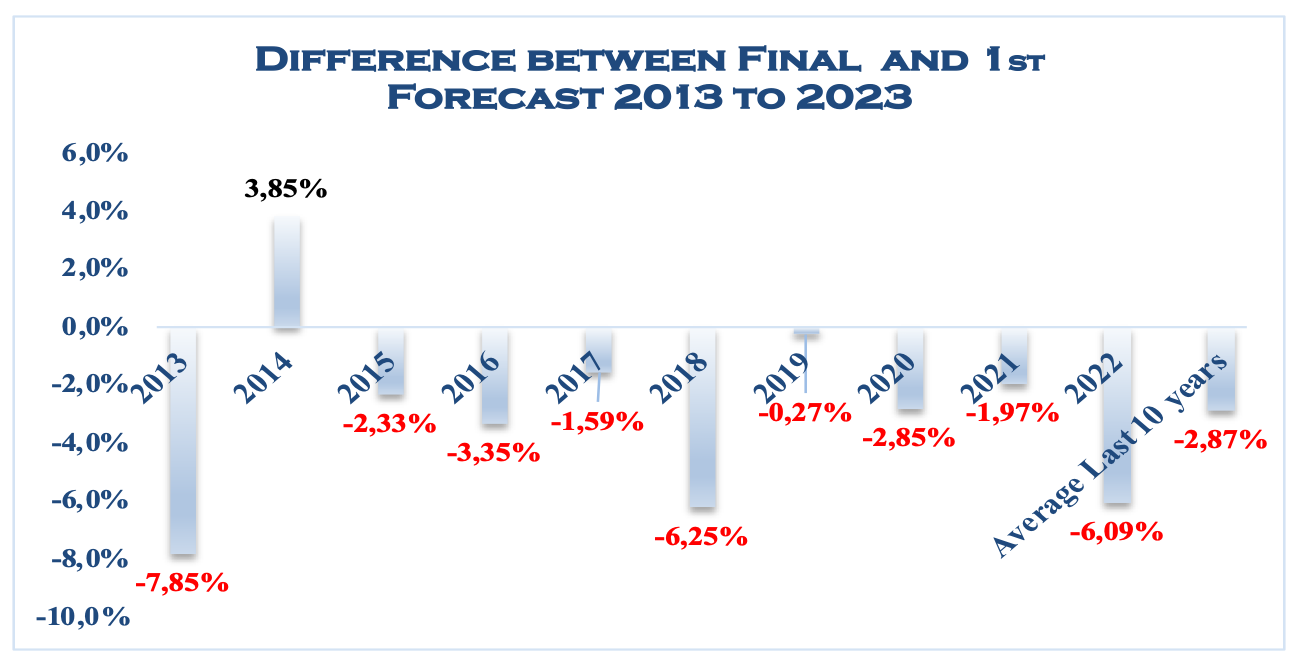 AMITOM COUNTRIES
There is no change in the forecast for most of the countries compared to the last report (27 January 2023) except for a small adjustment for France to 150,000 tonnes and Tunisia where the surface planted is now expected to be no more than 10,000 hectares and the volume to be processed reduced to 524,000 tonnes due to the reduced availability of water (reservoirs are currently at 31% of capacity. In Turkey, the forecast remains 2.35 million tonnes, but production could be higher as farmers are keen to plant.
In Spain, water availability will again be an issue in Andalusia, but the situation is normal in Extremadura. The total forecast remains unchanged at 2.6 million tonnes.
Price negotiations are continuing in most countries and were finalized this week in Spain and Portugal as official declarations were due in mid-February. Significant price increases are expected in all countries.
OTHER NORTHERN HEMISPHERE COUNTRIES
In California, the official forecast of 12,400,000 short tons (11,249,000 metric tonnes) was released a few weeks ago but in the last few years, final production has been lower than the January forecast. There is more water in the reservoirs following rains this winter, so the season is starting well. The price was agreed at 138 USD per short ton (eq. to 152 USD per metric tonne).
In Canada, preliminary indications are for a total contract level of 557,000 short tons, 505,000 metric tonnes.
In China the current forecast is 7.3 million tonnes.
In Japan, the forecast is 30,000 tonnes but the demand is higher.
SOUTHERN HEMISPHERE COUNTRIES
In Argentina, the forecast is reduced from 665,000 tonnes to 655,000 tonnes due to reduced yields in San Juan following frosts and less uniformity of maturation: this year they average 95 t/ha, instead of 110 t/ha. The season is now progressing well with dry weather and good temperatures. 35-40% of the surface has already been already harvested.
In Australia, there have been plenty of issues starting with floods in October during planting putting the planting schedule behind and reducing surfaces planted to 1,600 hectares. High winds and low temperatures later in the season will lead to reduced yields. The harvest started in February instead of the end of January and will end mid-May, later than usual. While the target was initially 250,000 tonnes, the forecast is now reduced to 139,000 tonnes, but this number may not be reached.
In Chile there is no change to the forecast of 1.15 million tonnes. The harvest is progressing well.
In Peru, the harvest is good and will finish by March with an expected total of 150,000 tonnes.